Born: February 20, 1887 in Morizchida, Gyor, Hungary
Died: November 26, 1966 in Massillon, Stark, Ohio
Occupation: Housewife
Married: Jozsef Kiss, November 24, 1908
Children:
Dénes, born October 9, 1909
Joseph John, born July 15, 1912
Introduction
Very little is known about the life of Julianna Kocsis Kiss. It is believed that she suffered from a mental illness. The cause of the condition is unclear but there are conflicting stories that she may have been subjected to domestic violence from either her father or husband, which have contributed to her condition. She was committed to the Massilon State Hospital for the Insane on December 30, 1926 at age 39 and lived out the remainder of her life there.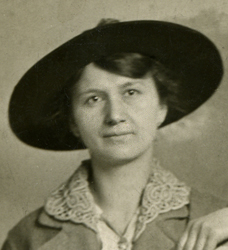 Julianna Kocsis Kiss, circa 1919
Birth and Childhood
Julianna Kocsis was born to János Kocsis and Juli Radakovics in Nagymorichida, Hungary on February 20, 1887. She was the fourth of six children born to János and Juli. Little is known about her childhood.
Marriage
Julianna married József Kiss on November 24, 1908 in the Ujvaros parish of the city of Gyor, Hungary. Gyor is about half way between Nagymorichida and Hédervár where József was from. Little is known about their married life in Hungary, but it appears that they moved to Hédervár as on October 9, 1909, Julianna gave birth to their first son, Dénes there. Within a year of Dénes' birth, József had left him and Julianna and emigrated to America, settling in Alliance, Ohio. The circumstances surrounding his departure are unknown, but there is some evidence that he and Julianna may have divorced.
After József left, Julianna and Dénes lived with her family. On April 1, 1911, Julianna left Hungary for America, leaving Dénes with her brother János and his wife Albina (Francz). Julianna departed from Havre, France sailing on the ship La Bretagne and arrived at Ellis Island, New York on April 11, 1911. She indicated Harris, Pennsylvania as her final destination. The status of József and Julianna's relationship at this time is not known. Her final destination of Pennsylvania may indicate that she came to the United States to find József and attempt to reconcile their differences. By October of 1911, József and Julianna were together again in Canton, Ohio and Julianna was pregnant with Dennis' brother Joseph John. Julianna gave birth to Joseph John on July 15, 1912.
On July 16, 1917, Julianna and József applied for a marriage license in Stark county Ohio. This may indicate that they were indeed divorced in Hungary or it may indicate that their marriage may not have been legally recognized in the United States. In either event, it appears that they were remarried in 1917.
Committment to Massillon State Hospital
Little else is known about Julianna's life over the next nine years. On December 30, 1926, Julianna was legally committed to the Massilon State Hospital, where she lived out the remainder of her life until her death on November 26, 1966 at age 79.
Legal Proceedings regarding Julia